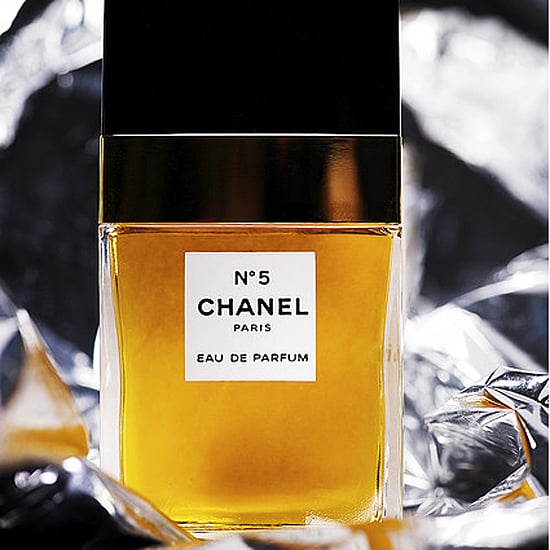 Chanel No. 5 is the definitive "classic" perfume, but even No. 5 devotees need a little variety now and again. If you've fallen in love with this iconic scent but want to branch out a bit, the following five perfumes are worth your time. Each has some of No. 5's best qualities, plus a little twist of its own.
Guerlain Shalimar — If what appeals most to you about No. 5 is its rich, old-fashioned floralcy, you'll definitely want to give this similarly iconic scent a sniff. Where No. 5 opens with neroli and has a woody base, you'll find that Shalimar is a bit more "edible," with notes of bergamot, iris, and a vanilla base.
Givenchy L'Interdit — If part of the reason you treasure No. 5 is that Marilyn Monroe was a lifelong wearer, why not give this classic, which was Audrey Hepburn's signature scent, a try? This one has a structure very similar to No. 5, too. Lots of aldehydes (the chemical notes that give No. 5 its "fizz"), ylang ylang, and a similar woody drydown.
Etat Libre D'Orange Vrai Blonde — This scent's name means "real blonde," and it's just as drop-dead sexy as that name implies. If you love the sophisticated sensuality of No. 5, this scent has the same effect, but turned up a few notches. It's the high-end dominatrix to No. 5's Belle Dame Sans Merci. It's electric, liable to either terrify or entrance potential dates.
YSL Yvresse — If the "bubbly" wallop of aldehydes that open No. 5 bring you endless delight, then you really must try Yvresse. This scent is so full of the stuff that it was originally named Champagne (until the French manufacturers of the libation threatened to sue for copyright infringement). It's like No. 5's fun, shameless little sister who spends a great deal of time sunbathing on the Riviera and drinking Bellinis.
Robert Piguet Baghari — If No. 5 feels a little too cold and metallic to wear around a roaring fire or under your favorite chunky knit sweater, you should definitely consider giving Baghari a sniff. Piguet is legendary for creating Fracas, but Baghari is a masterpiece of Old World perfumery as well. It's like a warmer, spicier take on No. 5, and it's only recently been re-released, so you'll be one of the lucky few to wear it before finds its way back onto the pop cultural radar.
Credit:https://www.popsugar.com/